Kinetic Sculpture is an art form that I came across about two years ago. It fascinated me and as a friend says I have been on a journey every since. I started out with a 20 year old scroll saw, and since then have upgraded to a new scroll saw and also a CNC machine which cuts down on the labour on large pieces.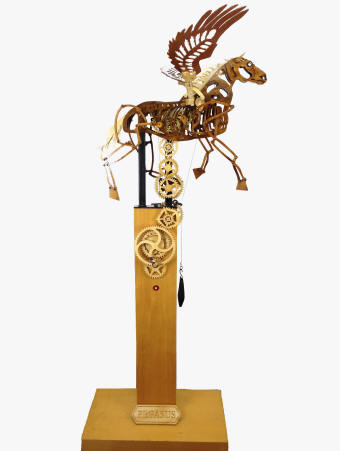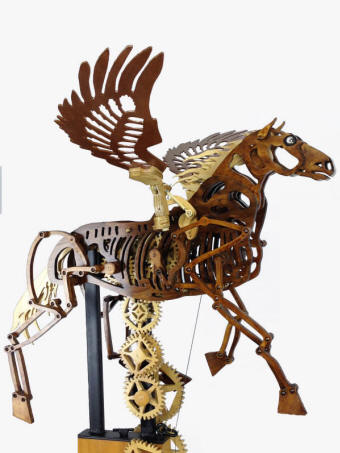 PEGASUS
Pegasus was voted 1st as the winner as one of the ten finalists in the Brisbane City Council Recycled Art Competition for 2016. It is made from a broken lectern, a chair, a school desk and a bookcase.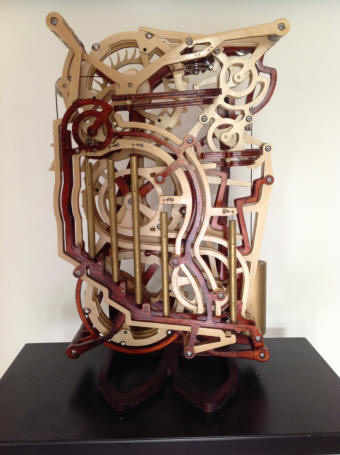 KINESTRATA, which means layered WHIRLY, designed by
motion. A Derek Hugger design it Robert Hains and
was the first Kinetic Sculpture Clayton Boyer. Click here
I built. It took 145 hours to to purchase plans.
complete.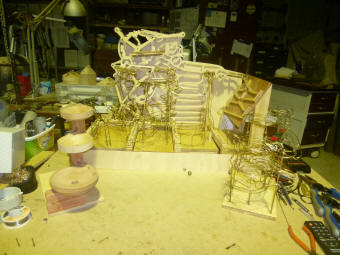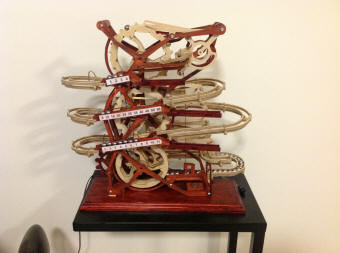 Marble Run machines to test MARBLE RUN CLOCK
ideas. using the Kinestrata wheel
lift principal developed
in the various machines.
Build time - 300 hours.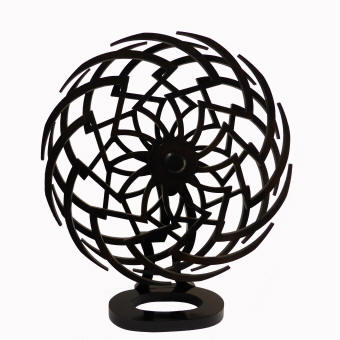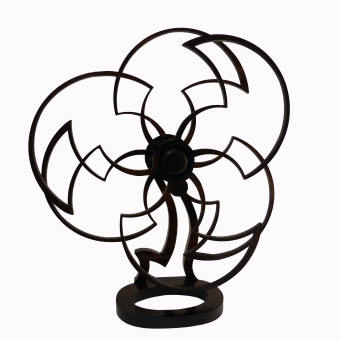 ZINNIA, a design by Clayton Boyer CLOVER, based on the
with a table mount designed by me spring motor concept, re
to complement the shape of the -designed wheels and a wheels. unique table mount.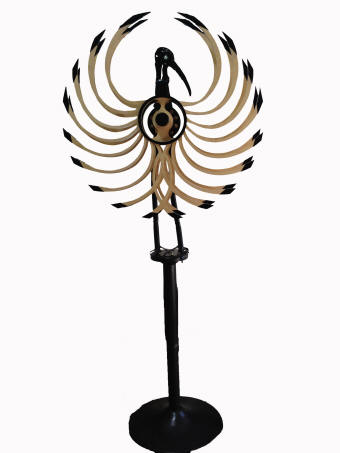 TIP TURKEY. A design developed for the Brisbane City Council Recycled Art Competition 2015. The idea was based on the Australian White Ibis which is 750mm long, has a black head, beak and neck, black legs and black wing tips. I called it the Tip Turkey because it frequents refuse sites like the council tips. It finished in 2nd place in the competition. Not too bad for a beginner. Next year I will have to try again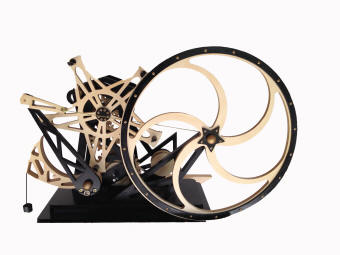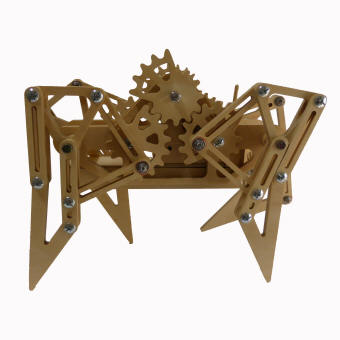 STEAMPUNK IMPULSE ENGINE DOG, which I designed
by Clayton Boyer. A great but using the principles of the
rather noisy machine. Theo Jansen parallel arm
mech. I modified the 12
holy numbers and managed
to make the robot type
design walk on 4 legs.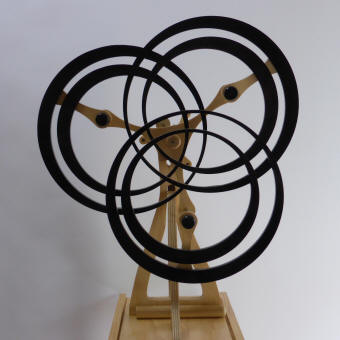 BIG BIRD, designed because a friend ANNULATION, a design by
loved the idea of something like this. Derek Hugger. but table
instead of wall mounted.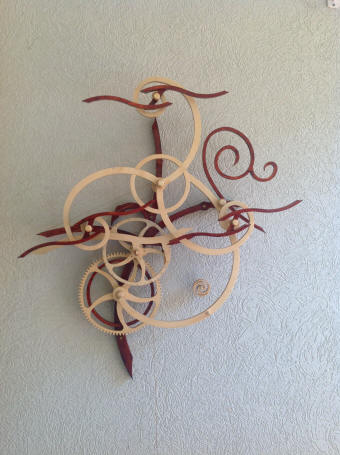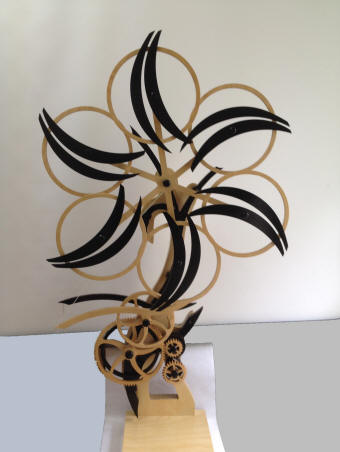 GALILEO'S BICYCLE, ECLIPSE, a design based
a Clayton Boyer design. on a GB escape mechanism
but developed into a large
wall sculpture.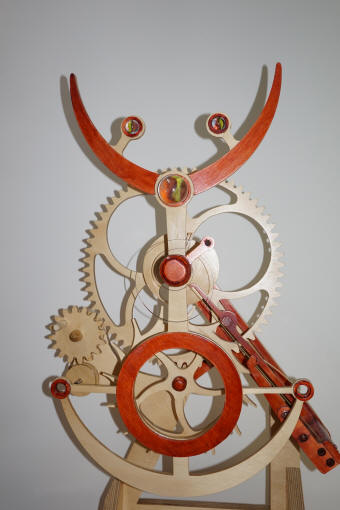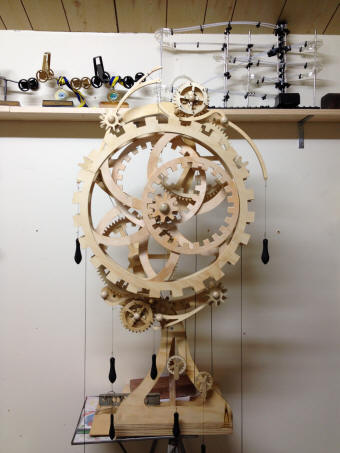 SPACE TIME CONTINIUM by COGITATION.
Clayton Boyer, modified by me to A Clayton Boyer design
make it spring driven and table
mounted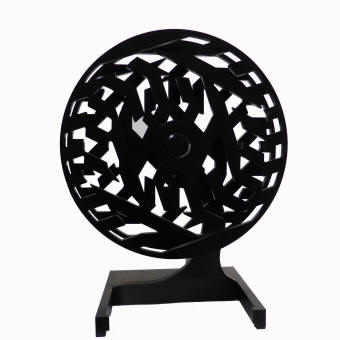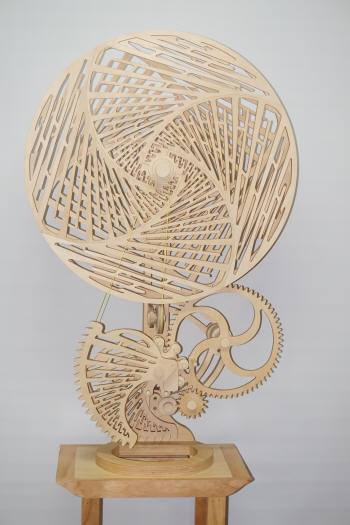 CHAOS, named by a friend who said it GIANT WHIRLY.
has to be Chaos because it is modified optical illusion.
mysterious dark and totally
unpredictable.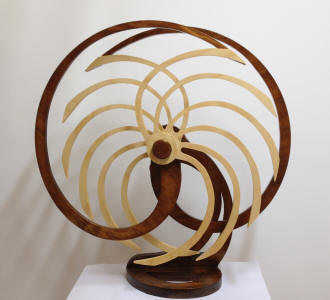 ROSIE'S BIRD Built especially for a
friend who likes the earthy brown
colours.